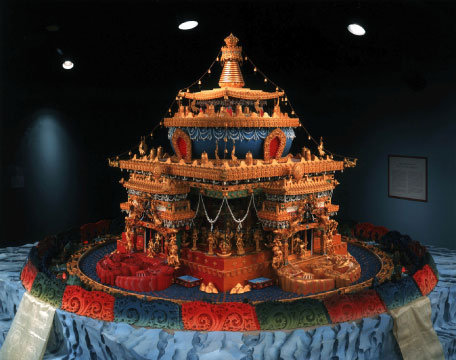 The Shi-tro Mandala is the most intricately detailed three-dimensional Tibetan Mandala ever constructed outside of India and Asia. Funded completely by donations, it was built according to an ancient blueprint by renowned master Mandala artist Pema Namdol Thaye and a team of assistants over the course of eleven months.
The Shi-tro Mandala depicts the sacred mansion of the enlightened beings of the One Hundred Buddha Families ("Shi-tro" in Tibetan), which are the expressions of enlightened qualities, such as compassion and altruism, within us all. These qualities have the power to transform negativity and promote well-being and spiritual development. Every detail of the Mandala is richly symbolic and geared towards leading the viewer to one's own highest spiritual qualities.
Many years ago Lama Chödak Gyatso initiated and sponsored the translation of the Shi-tro cycle into English, the text published by Padma Publishing in 2000. The Mandala was constructed shortly thereafter at Forest Lawn Memorial Park in Glendale. It has been exhibited throughout Southern California at Forest Lawn Museum, Glendale, CA; Pacific Asia Museum, Pasadena, CA; and San Diego Museum of Art, San Diego, CA.
The translation of the Shi-tro cycle into English and the subsequent construction of the Shi-tro Mandala inspired the creation of Tools for Peace, a successful community outreach program. Organized in various public locations including suburban malls, high schools, detention centers and museums, Tools for Peace employs the Shi-tro Mandala as teaching tool through meditation, art, reflective writing and community engagement. To date, over 6,000 participants have benefited from Tools for Peace, which provides people of all ages and backgrounds with practical methods for cultivating compassion, peace and well-being.
The Shi-tro Mandala is now housed at Pema Drawa, the retreat land of Ari Bhöd, in Tehachapi, CA. It is an invaluable support to meditators when performing the ceremonies and meditations of the Shi-tro cycle, which occur at Pema Drawa on a regular basis. These ceremonies are traditionally practiced on behalf of the deceased on weekly intervals for seven weeks following their date of passing.